What's up with all the spiders in our house!?!? There was a big one on the carpet when I came down at 5:30 this morning – and another on the doorstep!!? This house has seen all kinds of critters come and go in phases: big ants , silverfish , giant roaches (glad those seem to be gone!), SLUGS , and now spiders . Guess they eat one another and keep the circle of life going – all about competition of the species!
Up early this morning for a workout. It was quite chilly on the bike ride to the gym! I did 30 minutes on the ET and a quick round of free weights before we headed home. It was a light day overall and I had more energy to burn, but time did not allow.
Breakfast was a fantastic blend of:
1/3 cup oats, milk, water
Salt + vanilla bean paste
1/2 medium banana
Wheatberries
Cottage cheese
Crumbled Apple-Spice Country Square
AB on the spoon
Plus coffee . The husband got a new kind: low-acid. It was really good!! Didn't have that bitter aftertaste that I hate in some coffees. I wasn't going to have any today and have a decaf tea, but it smelled too good.
TEAM KERF!!
Just a few more days until the big Race for the Cure .
Thank you to Dina H. and Amber L. for their recent donations!!!!!!!!!!!!!!!!!
Grand total: $1,312.60. And counting!!? I'd love to reach $1,626 to keep the 26's going. Can you believe I will be 26 years old on 10/26!?
Hello Lucy!!!
Welcome to the world Lucy !!!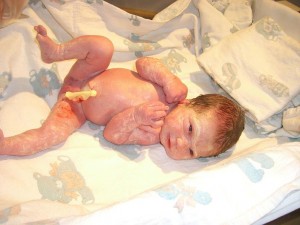 She was born yesterday at 4:47pm to my CalorieKing friend Chelsea and her husband Shaun. Congrats to the parents!!!
Full speed ahead!