This day is flying by!! Probably because it's so windy outside!
I looked at my clock at 11:50, checked the group exercise schedule, and realized there was a BodyPump class starting in 20 minutes.
I COULD MAKE IT!
Under one condition: an automobile took me there.
I drove today, and felt a little bit like someone throwing a recyclable bottle in the trash. I have a policy that if you can bike somewhere you should. If you can walk, you should. The policy is bendable for rain and fancy clothes. But today the sun was shining! Time was of the essence and our wind chill is horrible, so I think I need to be a little lighter on myself sometimes about biking.
BodyPump was fun. I'm liking it more and more as I get used to it. And my arm muscles are most definitely getting more toned just from a few weeks of more lifting. After Pump, I ran into Karen and we went on a 7 mile bike ride together – on the Espresso bikes! I tried one out with Larbs in Boston and loved the virtual ride, along with the challenging hills. It's really like biking outside! Gets me out of breath too. 30 minutes FLEW by!
Lunch –>
A fried egg on an English muffin with pumpkin butter. Mmmm!!! This muffin was one that Karen thought was my favorite Bread Basket brand but it was not. Disappointment. Can't wait to restock those! But still tasted awesome – nice and fluffy!
On the side, I assembled a huge salad –
Spinach
Carrot
Celery
Broc
Fig
Walnuts
Bleu Cheese
Honey
Faith's Rosemary Salt
Candy Cane Lane!
Would the person who sent me this cute little bowl in a package without a note or return address like to identify themselves!? I'd like to say thank you!
A big congrats to Caitlin and her Positivity Project big win last night for Operation Beautiful (donating to Girls On The Run, a great organization I volunteered with one semester) and to Angela for her finalist-ism in Project Food Blog!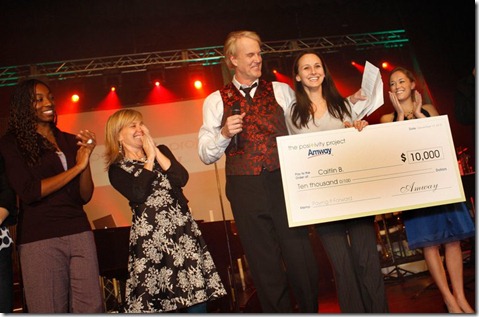 ***
Lastly, OpenSky Christmas presents out the wazoo – a new line has arrived and I am SO VERY EXCITED!!! More later!!