Are you drowning in digital clutter? Learn how to conquer digital organization with a simple system that takes no more than one hour each week so you can spend more time doing what you love! Here's an overview of the method that I use, and an introduction to my Digital Clutter Course!
Is this you?
You are drowning in overwhelming digital clutter and never seem to be able catch up.

Your favorite photo memories of your children are buried in your camera roll next to a pile of screenshots.

You have 12,689 unread emails in your inbox.
If so, I can help!
Hi I'm Kath, and I LOVE to organize things!
Many of you know this already
I spent years trying ALL the apps, all the color-coded this and that, draining my time and energy. iPhone organization and digital organization stressed me out so much!
The learning curve for apps is steep, and at the end of the day my screen still looked cluttered.
Finally, I started from scratch, went back to basics and created a system that's simple and easy to manage.
It's actually a set of mini systems that I set up once that are easy to maintain each week through the Digital Clutter Method. My digital organization is streamlined, so that I know exactly where to look to find everything.
The ultimate goal: unplug more and spend more time living in REAL LIFE!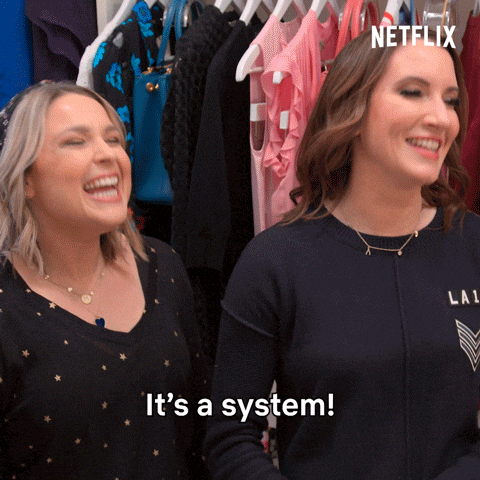 Here are some reasons why so many people are stuck, stressed out, and overwhelmed by their devices.
Common Mistakes People Make When They Try To Organize Digital Clutter
Mistake 01
Once I find the perfect color-coded, nested folder system, I'll be organized once and for all."
While pretty folders neatly organized on your phone's home screen are certainly nice, they are difficult to maintain if you keep dumping more into them.
I'm sure a similar situation has happened to many of us in the real world beyond our phones and computers: Anyone who has ever sorted Legos by color or put Crayons in rainbow order knows what happens next – they explode everywhere and take forever to sort and clean up again.
While it can seem satisfying at first, aesthetics don't equal function. Pretty organization does not address the incoming clutter. If you begin with too much clutter, the organizing takes forever and you're less likely to maintain your system.
Mistake 02
I'll find the perfect app to automate the organizing so I can carry on with life."
Apps do not have brains. They can't tell the difference between what's important and everything else. When you put an app on autopilot, it saves everything and you find nothing.
More apps = more clutter.
Mistake 03
I'll store today and sort tomorrow."
When you don't have a plan to filter the important digital clutter from everything else, you will never have time to sort and you just save EVERYTHING.
So you just buy more and more digital storage until you're either paying for WAY more than you need and can't find anything.
Or worse – you just procrastinate on storage altogether and your phone falls in a lake!
The Digital Clutter Method
1 // Simplify
Fact: The less you have, the less you have to organize. This goes for clothes in your closet, dishes in your kitchen, and all of your digital clutter.
Ways to simplify:
Unsubscribe
Turn off notifications
Create filters
Go paperless
Maintain fewer cards and fewer accounts
Consolidate calendars and inboxes
Set up: In my method, we set up one system that makes sort + save quick and easy.
2 // Sort
Fact: Your brain is the ultimate filter.
After you have simplified and set up, you can quickly sort the important from everything else.
We do this during a Digital Clutter Power Hour. This is one hour of time each week you devote to organizing your digital life.
Power Hour Tasks:
Email:

Respond to or delegate any emails in your

Star Box

Photos

: Sort and save photos using the

Mirror Method

Calendar + Tasks

: Create your

Weekly Planner

Paper + Files

: Use the

Two Bucket Rule

to sort + save

Budget

: Import transactions +

Find Focus
3 // Save
How many unimportant screenshots and out-of-focus or duplicate photos are you paying to save in the cloud? When you only save what is important, you are only paying for what you need. And you'll be able to find anything, fast.
Once you have a system for the incoming clutter, you can use the same method to clean up your archives.
Inside the course, I teach best practices for saving and storing with intention.
Watch My Workshop
If you want to hear me talk about these mistakes and an overview of the method I teach, you can watch a replay of the live workshop I hosted here!
The Digital Clutter Course
If you enjoyed scratching the surface and are feeling motivated to get organized once and for all, I'd love to invite you to join my course!
What you'll get out of the Digital Clutter Course:
You'll set up simple digital organization systems to manage incoming email, events, tasks, paper, files, digital photos, and money.

These systems are easy to maintain in less than one hour a week.

You'll streamline your digital life so you can focus more on your real life.

Learn exactly what to prioritize and what you can delete.

5 Mini Courses In One

Email

– The Star Box (this is a Gmail focus, but you can apply to most email programs!)

Photos

– The Mirror Method

Calendar + Tasks

– The Weekly Planner

Paper

+

Files

– The Two Bucket Rule

Money

– Focused Flow Blueprint
You'll also get:
Instant lifetime access to the course material, including a mobile app!
30-page workbook
Tech how-to videos
Monthly Q+A calls
Bonus e-book: Photos Archives Guide: Tips For Organizing Your Photo Archives
If you're ready to get organized, you can join here!
What founding members have said:
---
---
I'd love to have you join!
Thanks so much for your support bringing this passion of mine to reality!